Venice Skatepark
Venice Skatepark
Open until 19:00
Monday

08:00
-
19:00

Tuesday

08:00
-
19:00

Wednesday

08:00
-
19:00

Thursday

08:00
-
19:00

Friday

08:00
-
19:00

Saturday

08:00
-
19:00

Sunday

08:00
-
19:00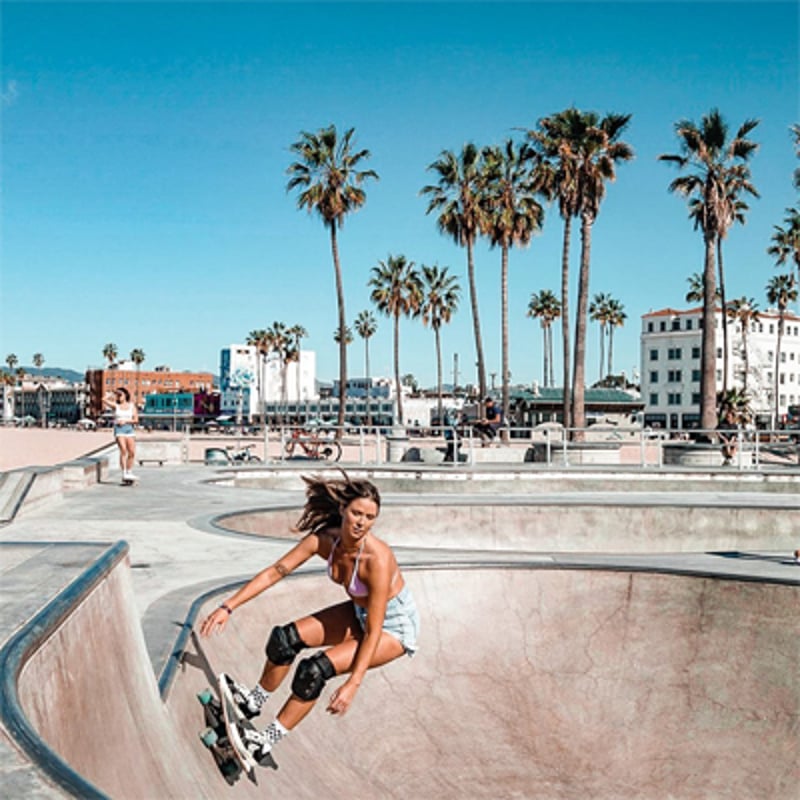 One of the only skateparks in the world that's literally on the beach
Can you imagine hanging out in a place where you can skate surrounded by palm trees as you watch the sunset over the ocean? You don't have to anymore—you can grind down rails and rip pools at the Venice Skatepark. Here, you and your friends can enjoy landing tricks in one of the coolest cities in the world, Los Angeles. Venice beach is an iconic place with tons of history deeply rooted in skateboarding. As you know, skateboarding originated in California around the 1940s in 50s after surfers decided to take skate wheels and add them to wooden boxes, thus creating the very first skateboards. Venice goes all the way back to the Z-boys at Dogtown. It may seem bewildering to some, but Venice didn't always have its own skatepark. It wasn't until 2010 that its very first skatepark was inaugurated.
Now Venice Beach has one of the only skateparks in the world that's literally on the beach. This phenomenal place now lets skaters shred as they hang out with friends and watch the sun go down over the Pacific coast. It's a dream come true for many. Just like the rest of downtown LA, there's a great vibe here—you can feel the warm bond from the moment you arrive. You can usually find a ton of great local skaters, and sometimes even the pros stop by for a quick video shoot. There's no entrance fee so it can get busy at times. But, with 16,000 ft2 (1,500 m2), there's plenty of room for everybody. Unfortunately, bikes aren't allowed in the skatepark due to safety issues; the park only allows skaters and scooters. Also, keep in mind that there are no lights, so any skating has to be done during the day.
At Venice Skatepark, you'll skate the kind of backyard pools that old school Californian skaters used to rip
A lot of money was invested in the park, and the result is an excellent concrete paradise with a beautiful ocean view. The skatepark has both a street and park section, and everything's made out of concrete. The street course features staircases with grindable handrails and ledges; there's also plenty of boxes, curbs and manual pads with metallic grindable-edges. There are some ramps for you to catch enough speed to grind or flip trick down the stair sets. But if you're more into ripping pools, then you're in luck: the park section includes two bowls and a snake run. Both bowls have curvy, steep walls with concrete copings and resemble the kind of backyard pools that old school Californian skaters used to rip. The snake run is extra curvy and runs around both pools.
If you're going to skate here, don't forget to bring your helmet. And, even if you don't skate, you can always drop by to watch the skaters in their element. The beach is a great place to hang out and catch some sun. Today, Venice Skatepark is more than just a skatepark; it's a home away from home, where great skaters get together with their friends to have fun, be outside, and do what they do best, skate.