Hilltop Skatepark
Hilltop Skatepark
Opens at 08:30
Monday

08:30
-
21:00

Tuesday

08:30
-
21:00

Wednesday

08:30
-
21:00

Thursday

08:30
-
21:00

Friday

08:30
-
21:00

Saturday

08:30
-
21:00

Sunday

08:30
-
21:00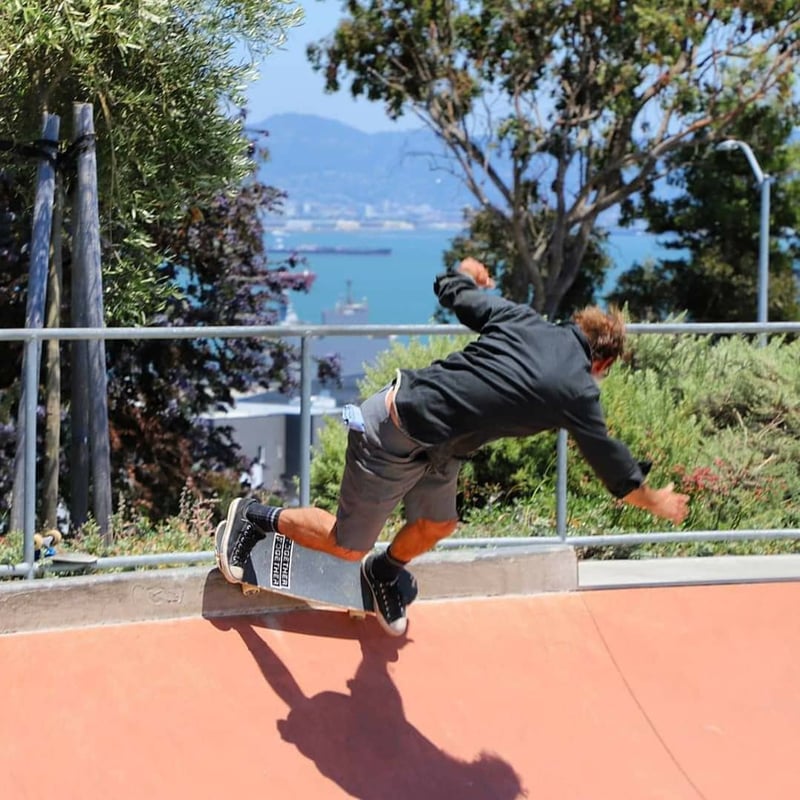 San Francisco's first and oldest skatepark
Hilltop Skatepark is the perfect place for you and your friends to have a righteous time! This skatepark's history is what skateboard culture is all about. Back in 1979, a skatepark was built in a part of the Bay Area stricken by crime and drugs. The skatepark —later known as "The Dish"— would be considered a bit out-of-date for modern times but it gave the kids in town something to focus on. And once videos of skaters like Tommy Guerrero thrashing the bowl reached the public, people from all over wanted a piece of The Dish. Skaters from both Thrasher and Santa Cruz visited the spot
The Dish resembles an old-school backyard pool
After about 40 years of an innumerable number of tricks, falls and bails, this skatepark has seen everything; so, finally, in 2016 people like Jake Phelps (Thrasher) and Tony Hawk worked together with the San Francisco Recreation and Parks Department and The Trust for Public Land to raise funds to build a new park. Alongside the help of Grindline Skateparks, they redesigned The Dish; and, thus, San Francisco's first skatepark was reborn. Now, the park has an improved large bowl surrounded by ramps. The bowl has two levels and resembles an old-school backyard pool. Next to the bowl, there is also a volcano strategically placed so that you can practice your favorite nose, tail or crook-stand. Mini verts and verts surround the entire park; there are plenty of spots where you can transition between verts for an excellent grind. Whether you want to drop in the massive bowl, grind the ledges or get some air, this is the place where you can put your creativity and skateboarding skills to the test. A lot of people love skating this park, which is why it's not surprising that there can be a lot of people at any given time. But this park's design was well-thought-out, and everything is strategically placed to maximize space. So even when there's a lot of people out, there are enough ramps for everybody to enjoy a great experience. Hilltop may not be the biggest park (16,000 ft²), but it's a park that skateboarders love. The Dish was always a place where friends would get together and enjoy their favorite pastime, skateboarding. Today, the skatepark's legacy lives on as a new generation of skaters hit the scene and shred this legendary spot. If you're into skateboarding and into making new friends, you'll definitely love this park.
Hilltop Skatepark is a wonderful place to get together and have a good time
The skatepark and the green areas surrounding it have become an important part in the lives of people living in the Bay Area. It has always been a wonderful place for friends and families from around the city to get together and have a good time. Even if you don't skateboard, you can enjoy this park. It has a great view overlooking downtown San Francisco, and its trees and vegetation are home to several bird species and squirrels. So, whether you and your friends are going to skate, barbecue, exercise or just enjoy the park and contemplate the view, this park is a great place to get outside.