Skatepark Zeeburgereiland
Skatepark Zeeburgereiland
Open all day
Monday

24 hours

Tuesday

24 hours

Wednesday

24 hours

Thursday

24 hours

Friday

24 hours

Saturday

24 hours

Sunday

24 hours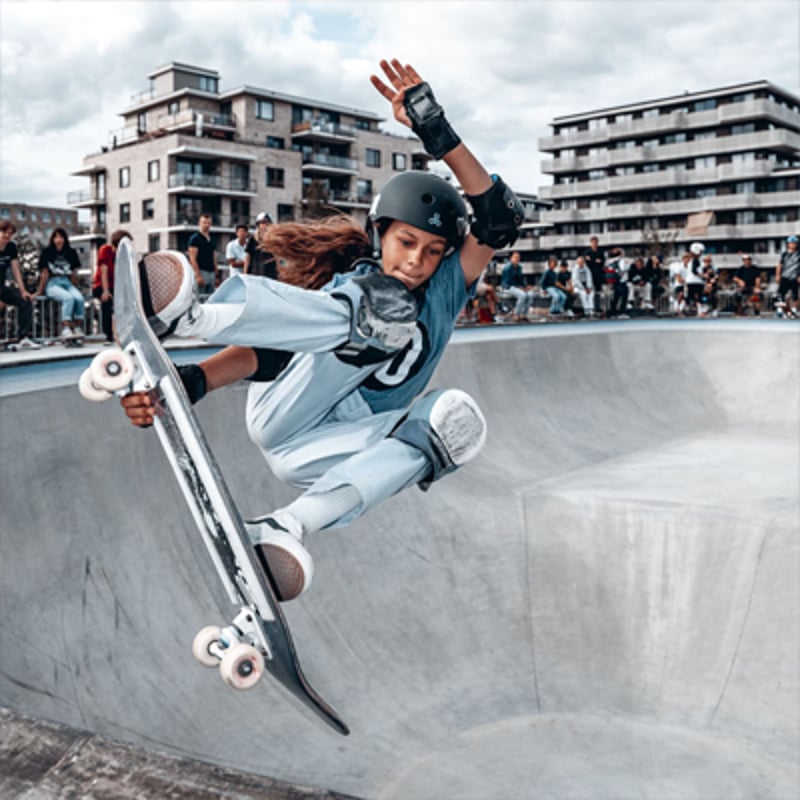 Go to
Skatepark Zeeburgereiland
A brand-new epic spot to shred
Skateboarding has come a long way since its "sidewalk surfing days." Nowadays, more than ever before, people are picking up skateboarding, getting together with their friends, and hitting the skateparks. And this year, there's a brand-new epic spot to shred—Skatepark Zeeburgereiland—which was officially inaugurated and opened to the public on June 19th, 2020. It's located in Sportheldenbuurt, about 5 km west of Amsterdam City Center
The biggest skatepark in the Netherlands
So, if you're ever in Amsterdam and have some time, you have to check this spot out. Those lucky enough to live near it or visit it love it. Each aspect of this skatepark was designed with the riders in mind, with the intention to improve their skills. Overall, this place is massive! It covers an area of 3,885 m2, making it the biggest skatepark in the Netherlands and one of the biggest in Europe. The layout of the park grants you endless possibilities for creating and practicing original and dynamic runs at all difficulty levels. It's definitely a must-skate spot; in fact, with skateboarding finally making its debut in the 2020 Olympics in Tokyo, Skatepark Zeeburgereiland was intentionally built as a training facility for future Olympic skaters.
This skatepark embodies the essence of skateboarding in a way that really keeps it true to its roots. Remember, old-school skaters used to hop fences into abandoned pools. Modern-day skateparks, like this one, have taken that concept and simply improved it, allowing skaters to take their skills to the next level and get bigger air. You've got to check this place out. There is one main eye-catching clover-leaf bowl in the center of the park with two smaller peanut-shaped pools on both sides of it. The bowls and pools are lined with a beautiful blue tiling that matches and mixes with the blue sky, giving it a particularly dreamy vibe. Although there's a lot of space dedicated to bowls and pools, there's plenty for street skaters too. You can find roll-ins, ramps, kickers, ledges, pyramids, boxes, rails, stairs, and nessy-ramps. Some of the ramps and ledges have graffiti painted, giving Skatepark Zeeburgereiland a classic old-school style skatepark feel that perfectly embodies everything you could ever dream of in a skatepark.
Skatepark Zeeburgereiland is the result of a city truly caring about the well-being of its community
What could make this place any more perfect? Well, it's free to the public and open to skateboarders, roller-skaters, and BMXers. So, you and all your buddies can hang out and improve your skills together without anyone getting left behind. And if you thought that this park was built exclusively for those who ride, guess again. The park also has a lush green landscape with hills and natural trails for non-riders and joggers. Skatepark Zeeburgereiland was created as space for people to get together and do what they love, go skateboarding, roller-skating, and/or BMXing with their friends. Importantly, skateboarding is considered a sport that holds an essential part of an urban neighborhood. This is the result of what happens when a city truly cares about the well-being of its community.