Bercy Skatepark
Bercy Skatepark
A cultural hotspot for Parisian teenagers
Open until 20:30
Monday

09:00
-
20:30

Tuesday

09:00
-
20:30

Wednesday

09:00
-
20:30

Thursday

09:00
-
20:30

Friday

09:00
-
20:30

Saturday

09:00
-
20:30

Sunday

09:00
-
20:30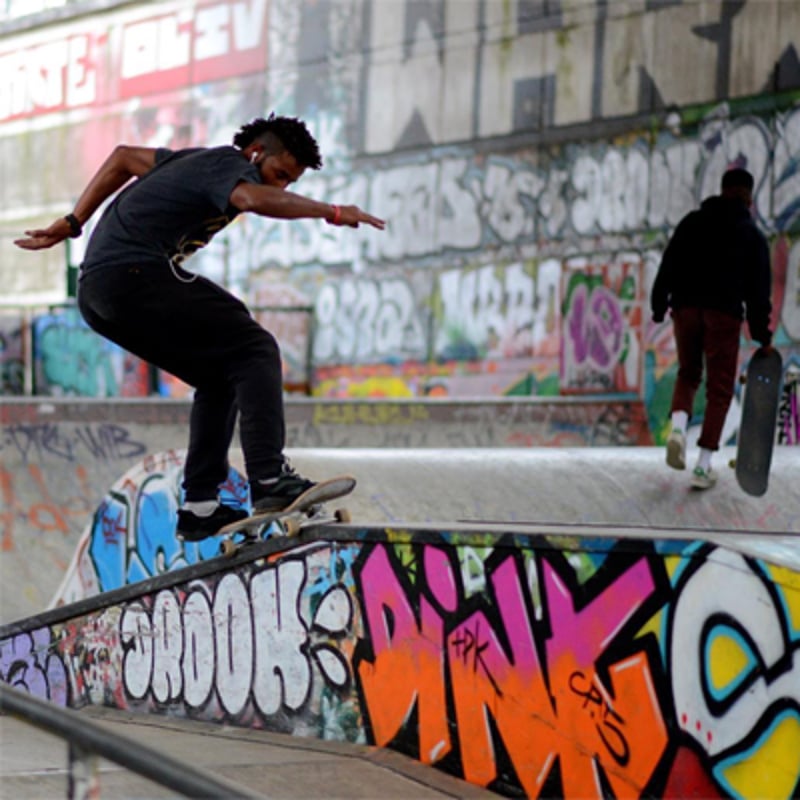 An old-school thrasher style skatepark
If we're talking about legendary European skate spots the name "Bercy" has been thrown around among pros and amateurs for years. Hidden in the heart of beautiful Parc de Bercy, you will find one of Paris's most historical skateparks. It was built in the 1990's in what was originally a wine warehousing neighbourhood, and now covers an area of 800 m 2, making it the second biggest in Paris.
Skatepark Bercy is exactly what you would expect an old-school thrasher style skatepark to look like. It is entirely composed of concrete ramps with metal copings and rails. In it you can find two concatenated mini-half pipes linked together by a wide volcano spine for transitioning. Next to which you have a classical funbox with a several ledges and rails to grind and slide on. At one end of the park there is a decent sized quarter pipe for when you want to drop in and gatherspeed, while at the other end there are more ramps and ledges. The space is ample and the options for skating or biking are plenty, making it fun and accessible for everyone. Definitely, its most defining trait is spray-painted on the walls, ramps and ledges; absolutely everything is covered in years and layers of graffiti and tags, giving the skatepark an exceptional old-school vibe. If you are not into the sport or you'd rather just watch from the sides you can do that too, a great feature about the park is that it has a space over-looking the course where on-goers and spectators can safely view with their friends, children and other family members.
Designed for rollerbladers, skateboarders and BMXers
Nevertheless, one of the most outstanding aspects about the park is that it has a roof completely covering the entire course, making it possible to skate or bike from sun up to sun down, rain or shine, all year round. The park was designed for rollerbladers, skateboarders and BMXers so there is need to worry about lack of space, everybody is respectful to one another and gets along just fine. Skatepark Bercy is not just a skatepark, oftentimes you will find DJs playing openly and free, making it very popular spot for many Parisian teenagers to go hang out at and watch their friends skate or ride. The park is an ideal place to gather with friends and practice landing your next best trick. It's also a great place to make new friends and maybe even learn a few new tricks. All in all, Skatepark Bercy is a cultural spot, given to the youth to enjoy and express themselves. However, if you're an old-school skater or BMXer at heart this park is definitely for you
At Skatepark Bercy, oftentimes you'll find DJs playing openly and free
The park and its surrounding are well-known skate spots that have rightly earned their place in skating's and BMXing's rich cultural history. So, if you're nearby don't miss your chance to skate or ride this sick historic park. Not only will you meet new people, have fun and learn new tricks but you will also become a part of the rich cultural history of skateparks.