Gulliver Skatepark
Gulliver Skatepark
Open all day
Monday

24 hours

Tuesday

24 hours

Wednesday

24 hours

Thursday

24 hours

Friday

24 hours

Saturday

24 hours

Sunday

24 hours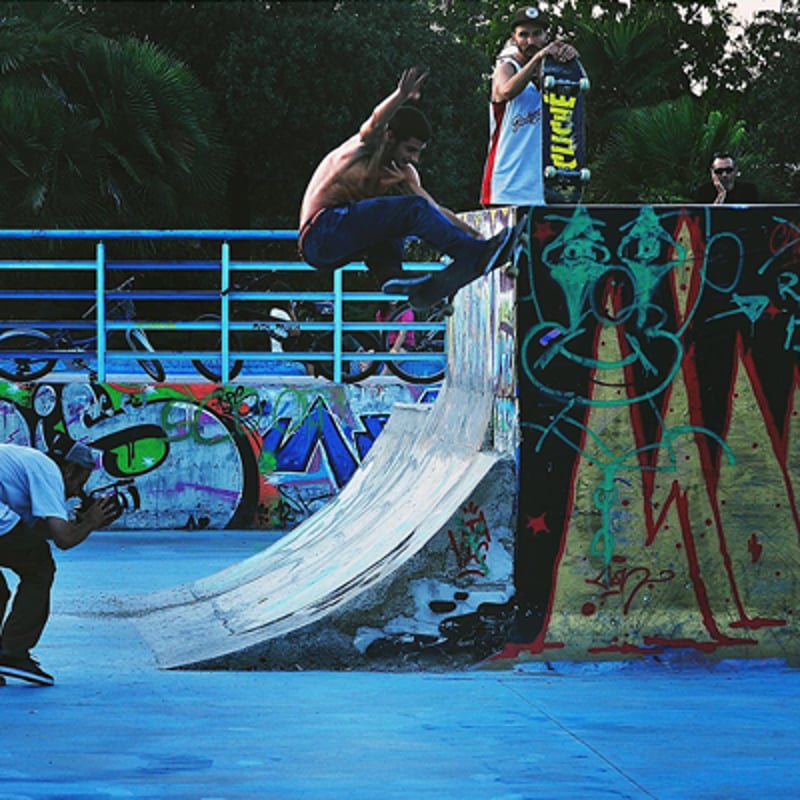 Gulliver Skatepark and the sun will awaken the old-school skater in you
This old-school gem embodies the heart of Spanish skateboarding. It is an experience you have to have for yourself. You may never have heard of it, but Gulliver Skatepark has been around for a long time. It holds a special place in the history of skateboarding in Valencia for being its first-ever skatepark. The skatepark was built in the late '80s and is located in Túria Park—a vast park that crosses the city—alongside the impressive Gulliver monument in the Túria gardens. Valencia itself is a beautiful port city located on the southeastern coast of Spain, where the Túria River meets the Mediterranean Sea. And as such, Gulliver Skatepark inherently reflects that same coastal beach vibe. This polished concrete skatepark and the sun will awaken the old-school skater in you.
As you'd expect, the entire skatepark is made of concrete. And even though it was built four decades ago, the construction has held its own over the years. Nonetheless, you might want to bring some safety gear because there are some cracks and holes in the concrete. From a bird's eye view, the skatepark has a bullet-like shape with a rectangular pool at its tail end. The entire outer border of the park is a continuous mini ramp made entirely out of concrete without coping. It's perfect for some rock to fakies or a tail stall. In the center of the park, there's a decent mini half pipe with extensions for when you need to get more speed and air. There's also a spine where you can make some excellent transitions. The entire park was once painted sky-blue but has been worn down and is currently tagged in graffiti. Don't forget to bring your film gear to this spot; the beautiful Spanish sky and weather make it ideal for getting some fantastic shots.
The place is enormous
Its prime location and history make it the perfect spot to meet with your friends and practice what you love: skateboarding, in-line skating, or BMXing. There aren't any rules about who can ride here, and it's open to the public 24/7. You'll have to bring your A-game to this park, though; as I said, it's several decades old, so it doesn't come with a lot of the amenities that newer skateparks have. Besides the skatepark, there are also tons of other things you can do in Túria Park; the place is enormous. The skatepark occupies just a tiny part of a mega-complex of walk paths and the green regions covered with trees. Interestingly, the name of the skatepark comes from the giant monument dedicated to Gulliver's Travels, a classic tale written in 1726, located just a few hundred meters away. If you've got some extra time, it's definitely worth the time.
Named after a classic tale written in 1726
Today, Gulliver Skatepark is more than just a skatepark; it's a testament to how much people love skateboarding and its importance to a community. What're you waiting for? Meet up with your friends at Gulliver Skatepark. It's time to get outside, skate, and have some fun!