Mellowpark
Mellowpark
Opens at 12:00
Monday

Closed

Tuesday

14:00
-
20:00

Wednesday

14:00
-
20:00

Thursday

14:00
-
20:00

Friday

14:00
-
20:00

Saturday

12:00
-
20:00

Sunday

12:00
-
20:00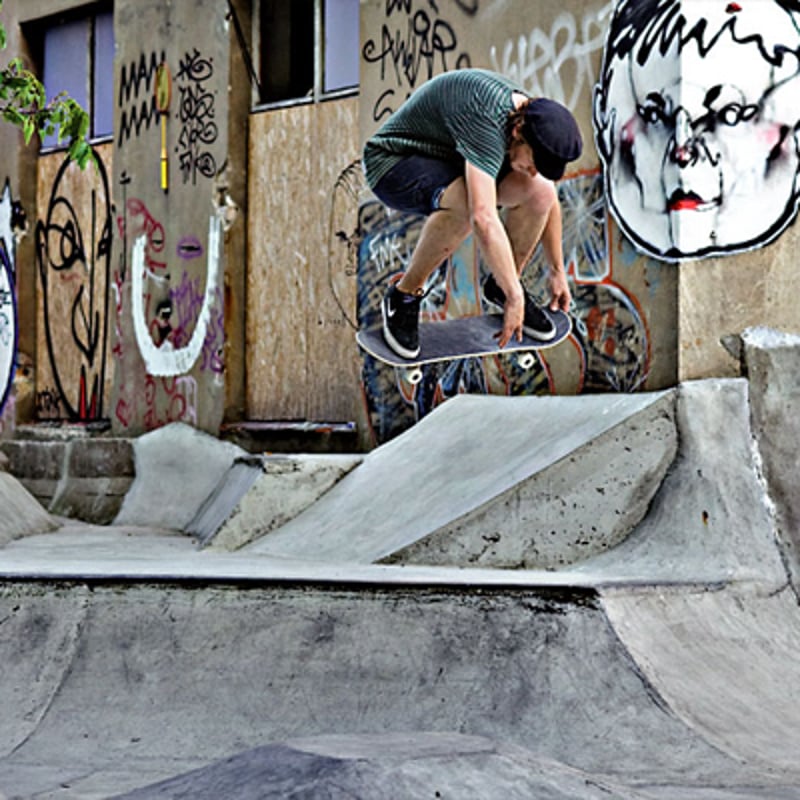 Europe's largest skatepark—Germany's heart and soul of skateboarding
If you're ever in Berlin, the one spot you can't miss out on is Mellowpark. This huge complex is where the heart and soul of skateboarding and BMXing in Germany lies. And since its latest inauguration in 2010, it has become an icon and a hub for youth culture and sports. Its history goes way back and is a bit of a rocky road. It first opened in 1994. But after winning the Teens Build the New Berlin (Jugend entwicklet das neue Berlin) city contest in 1999, it moved to a new location inside a gnarly old cable factory. And in 2008, it had to be relocated again due to construction and housing developments. It eventually ended up in its current location, across the FC Union Berlin Stadium. With a total of 60,000 m2, this skatepark currently houses Europe's largest skatepark. Its main attractions include pro-level half pipes, bowls, ramps, and indoor and outdoor street-style skateparks.
If you're a vert skater, then you're in luck because the Bielfield halfpipe is a classic. But if park-style is your preference, then head over to Rudy's Left-Over Ramp. Built out of the remnants of the old Mellowpark, this section has a couple of large roll-ins that stretch out into a colossal Nessy. Next to it, there's a mini halfpipe with extensions and a spine connected to another drop-in, manual pads, and at the very end of it all, a wooden bowl. Wickes Woody is another park section made up of an impressive landscape of wooden ramps. It's made up of halfpipes connected to other halfpipes by spines and hips. There are also some steep drop-ins and a gnarly grind-box/manual pad. However, if street-style is more your thing, check out the Bowl, which was built directly into the previously constructed building. It's genuinely a skater's dream come true. Or head over to the Skate Hall, which used to be a table tennis hall. Now, it's an indoor skatepark with excellent quality wooden ramps with extensions, a couple of fun boxes, manual pads, a rail, and even a cradle. And if that weren't enough, there's another street-style section outside with all kinds of Funboxes, rails, and ramps. This is meant as a temporary fix, and an improved street section is currently under construction. We've mainly focused on skateboarding and skating thus far, but much of this park is designed for BMXers. In fact, there's the DRK Dirt Trails, a pump track, and a BMX racing track. The skatepark was so well designed and built that it regularly holds a variety of amateur and mainstream competitions and cultural events.
Mellowpark is one of Berlin's coolest places to hang
This is, without a doubt, the largest skatepark in Europe. Mellowpark has more than just sports though, it has its own pavilion where you can rest up to grab some food and drinks. It also has its own ping-pong hall. There's even a camper van for those who want to stay overnight. The entrance is not free though, you will be required to pay for a day pass at the main office or sign up for a membership. You'll also need a helmet to ride here, but if you happen to forget it, you can borrow one from the office. Also, before you rush out, make sure to check its opening hours. Mellowpark is considered one of the coolest places to hang in Berlin, and it's a great place to meet great local skaters and BMXers. And of course, have fun!