Skatepark Sweatshop
Skatepark Sweatshop
Opens at 10:00
Monday

Closed

Tuesday

16:00
-
19:00

Wednesday

16:00
-
19:00

Thursday

16:00
-
19:00

Friday

16:00
-
19:00

Saturday

10:00
-
18:00

Sunday

10:00
-
16:00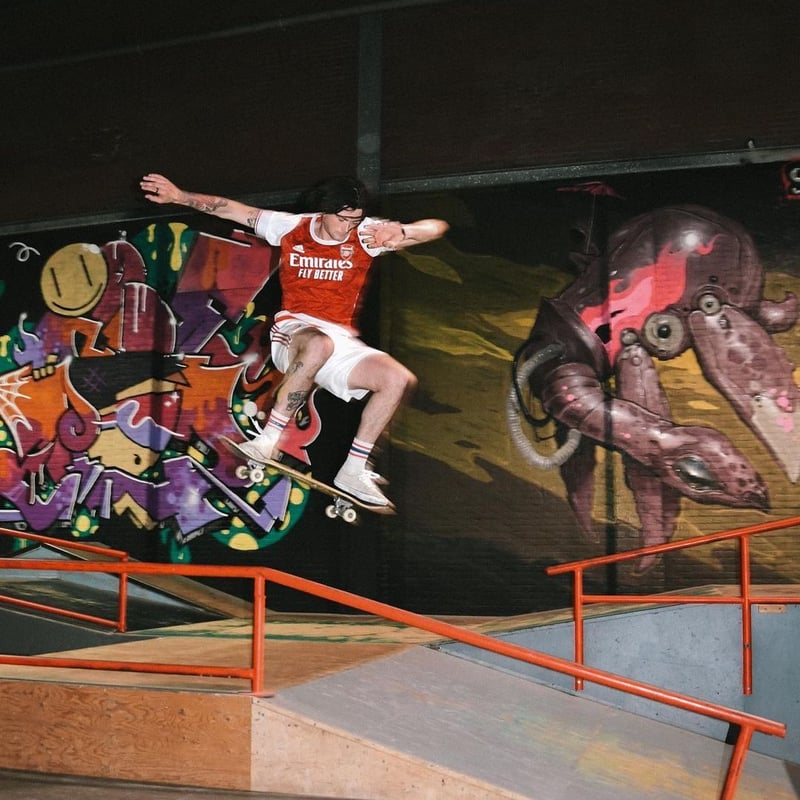 The largest indoor skatepark in The Hague
Skatepark Sweatshop, located in Den Haag, the Netherlands, is a vibrant and unique indoor skatepark that welcomes skateboarders of all ages and skill levels. This family-friendly and kid-friendly skatepark is the perfect place for beginners to learn skateboarding. The organizers offer various special events, including workshops, birthday parties, and skate camps during the summer. The skatepark is open to skateboarders, in-line skaters, and scooters every day of the week except for Mondays. If you're a BMXer, you can access the park on Tuesdays and Wednesdays in the evenings. The entrance fee for a day's access is 6 euros, which is great value for the money. If you're traveling by public transportation, getting to the skatepark from The Hague Central Station is easy.
The skatepark covers an area of 10,000 ft2 (1,000m2) and is the largest indoor skatepark in The Hague region. It offers a diverse range of high-quality obstacles to skate on and is known for its slick, smooth green floor. The park is well-maintained and has colorful walls covered in art and graffiti. The bowl is one of its main attractions, where you can practice pumping and carving. It also has metal coping so that you can practice grinds and stalls. On the other end of the park, there's a mini half-pipe where you can practice handstands and catch some air. The mini half-pipe has two different heights and an extension for wallrides. In addition to the park-style features, the skatepark also has a street section where you can practice dropping in on the massive quarter pipes, catch some speed on the bank or roll-in, and skate rails of different heights, including some handrails. The funbox and the hubba are perfect for more experienced skaters. You can also skate the huge Londongap or the stair set, half pyramids, or manual pads.
Skatepark Sweatshop is the perfect place to learn
The skatepark offers several events catered to youngsters, making it an excellent choice for kids interested in learning to skateboard or scooter. The skate school is suitable for children five and above, and the classes are grouped by level, not by age. This way, participants challenge each other and learn new tricks. Learning to skateboard is much faster when you're skating with peers at your level, and it's more fun too. The skate school offers different lessons for different target groups at the skatepark. Even if you're an adult and just getting into skateboarding, Skatepark Sweatshop is the perfect place to learn. Everyone can learn new tricks under the guidance of experienced skateboard teachers and improve their general skateboarding skills.
Besides the skatepark, there's a small shop where you can buy (or rent) a new board, safety gear, accessories, or hardware. And if you get thirsty or need a place to hang out, the park has a chill area where they serve food, drinks, and great coffee.
A challenging and exciting experience
The park has a friendly and welcoming atmosphere and is committed to providing skaters with a safe and inclusive space. It offers a challenging and exciting experience that caters to skateboarders of all skill levels, providing a unique and memorable skateboarding experience. Skatepark Sweatshop is a total gem and a must-visit for any skater in the Netherlands.