Pragfriedhof Skatepark
Pragfriedhof Skatepark
Opens at 08:00
Monday

08:00
-
22:00

Tuesday

08:00
-
22:00

Wednesday

08:00
-
22:00

Thursday

08:00
-
22:00

Friday

08:00
-
22:00

Saturday

08:00
-
22:22

Sunday

08:00
-
22:22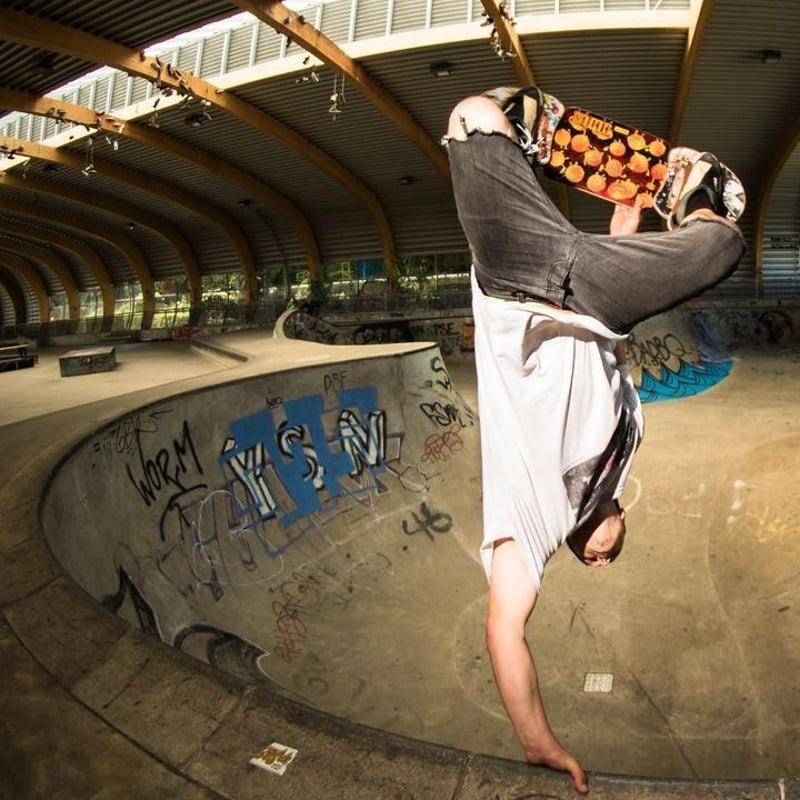 Cocreated by the city, neigbhors and the skating community
Pragfriedhof Skatepark, located in Stuttgart, the capital of the southwestern German state of Baden-Württemberg, is not just any skatepark; it's a huge part of the community with so much history behind it. It's perfect for anyone, from beginners to pros, to shred, and it's always buzzing with skaters and BMX riders.
The skatepark's history highlights the importance of skateboarding for the community and what can be achieved when the city collaborates with the skating community. In the early 2000s, with skateboarding gaining popularity in Stuttgart, skateboarders needed a dedicated space to skate. After a long wait, the skatepark was finally built in 2009, but it faced criticism from neighboring residents who complained about the noise levels. The opening hours of the skatepark were drastically reduced. Use was only allowed Monday to Saturday from 3:00 p.m. to 7:00 p.m. And the park was closed all day on Sundays and public holidays. But that didn't solve the issue and left everyone unsatisfied.
Finally, the city decided to take action and finance the construction of a soundproof roof over the skatepark in 2015. The roof created an effective sound barrier, allowing Pragfriedhof Skatepark to be used daily from 8 a.m. to 10 p.m. The walls are fitted with glass, allowing onlookers to see inside. And the park has lighting allowing for evening sessions.
Building a roof over the skatepark created an effective soundproof barrier and allowed for skateboarding on rainy days. The walls are fitted with glass allowing onlookers to see inside. And there is lighting for cloudy days and the evening skate sessions.
The gnarly bowl
As for the skatepark itself, it measures approximately 14,00 ft2 (1,300 m2) and has a seamless concrete surface giving you the smoothest ride ever. The open plaza street section has tons of curbs, manual pads, ledges, and a two-stair set with a handrail and a down-sloping ledge. Besides that, you'll find another grind rail, smaller quarter pipes, banks, and wallrides. The biggest feature of the park is the bowl. This gnarly bowl has a half-circle shallow end with pool coping with a tight transition going to vert with steel coping. Following this feature, a hip goes into a deep round bowl with pool coping. There's another hip followed by a square-shaped bowl that transitions into a gnarly over-vert section with pool coping. This dynamic bowl is perfect for carving, grinding, dropping in, and whipping around.
Pragfriedhof Skatepark is designed for skateboarding, in-line skating, scootering as well as BMXing
One of the unique features of the skatepark is its location next to the Pragfriedhof cemetery, a beautiful site with many trees and green spaces. Visitors can stroll along the winding paths and take in the tranquil atmosphere, while riders can take a break from skating and enjoy the scenery. There are also several stunning sculptures and monuments. Pragfriedhof cemetery is a popular tourist destination since it is the final resting place of many famous people—for example, the German poet Christian Friedrich Daniel Schubart, who lived in the 18th century.
At Pragfriedhof Skatepark, you can hang out with friends and perfect your skills in skateboarding, in-line skating, scootering, or BMXing, regardless of your skill level. Best of all, admission is free, and the park is conveniently accessible by train, subway, or bus. Whether you're a local or a visitor, the skatepark offers a fantastic opportunity to connect with like-minded individuals and take part in exhilarating extreme sports.