Hirschgarten Skatepark
Hirschgarten Skatepark
Open all day
Monday

24 hours

Tuesday

24 hours

Wednesday

24 hours

Thursday

24 hours

Friday

24 hours

Saturday

24 hours

Sunday

24 hours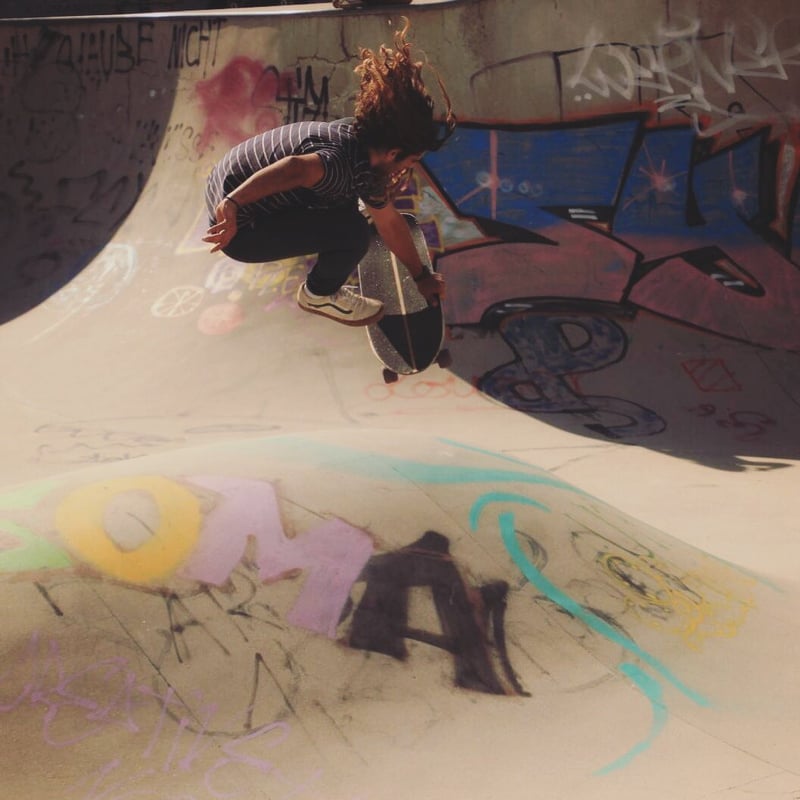 The birthplace of some of the world's most famous skaters
Have you ever wondered what it was like to skate like the Dogtown boys? If you're looking for a blast from the past, head on over to Hirschgarten Skatepark in Munich. This epic park takes you back to the days of skating pools and bowls, the birthplace of some of the world's most famous skaters, like Tony Hawk and Steve Caballero. You don't have to hunt down abandoned pools anymore. Just come to one of these amazing skateparks
Hirschgarten Skatepark is the biggest bowl park in Munich
Hirschgarten, with its 9,600 ft2 (900 m2), is the biggest bowl park in Munich and one of the best in Germany. It's located right in the heart of the city, so it's easy to get to on public transport, or you can drive and park for free. The park is open 24/7, and admission is free. Plus, it's well-lit so that you can skate safely at night. What more could you want?
Built in 2011 for skateboarders but also popular with scooter riders, BMXers, and in-line skaters, Hirschgarten Skatepark is all about bowls and pools—no street elements here. The concrete surface is smooth and fast, perfect for speed demons. The park has three interconnecting bowl sections that wrap around a stand-alone clover-shaped pool. The cloverpool is reminiscent of an old-school backyard pool, complete with pool coping, blue tiles, a small three-stair set, and a deathbox. Each corner of the cloverpool has different depths and different transitions. The rest of the bowl section has metal coping for smooth grinding. On the other side of the park, there's a killer kidney-shaped pool that's connected to the much larger bowl section. One of the sections of the larger bowl has a 3ft (1m) over-vert—that is not for the faint-hearted! There's also a rounded-off volcano, a wallride with an extended lip (which can also be used to drop in), and a huge half-pipe that turns into a full pipe. Overall, this park offers carving opportunities galore and is perfect for practicing transitions, slides, and aerial tricks
This skatepark is a beast and not for beginners. But if you're up for a challenge, bring your helmet and pads because even seasoned pros will be put to the test here. The skatepark is in the Nymphenburg neighborhood, and soundproof walls keep the surrounding area peaceful so as not to disturb the locals. There's also a stadium facing the bowls where you can sit and watch skaters pull off some sweet tricks
Unleash your inner skateboarding beast
Hirschgarten Skatepark is one of Munich's top-notch skateparks and has a lively and welcoming vibe. It's an awesome place to hang out with friends or meet new ones, and skaters from all over the world come to experience the diverse and exciting community. The park hosts regular events and competitions, bringing skaters together to showcase their skills and make connections. Plus, there's a soccer field, a basketball court, and a few playgrounds nearby, so even if you're not into skating, there's plenty of fun to be had.
In short, Hirschgarten Skatepark is the perfect place to unleash your inner skateboarding beast. Whether you're a seasoned pro or just starting out, this park is an epic ride that will keep you coming back for more. So come on down and experience the thrill of skating in one of Germany's best skateparks.