Skate Plaza Vancouver
Skate Plaza Vancouver
Open all day
Monday

24 hours

Tuesday

24 hours

Wednesday

24 hours

Thursday

24 hours

Friday

24 hours

Saturday

24 hours

Sunday

24 hours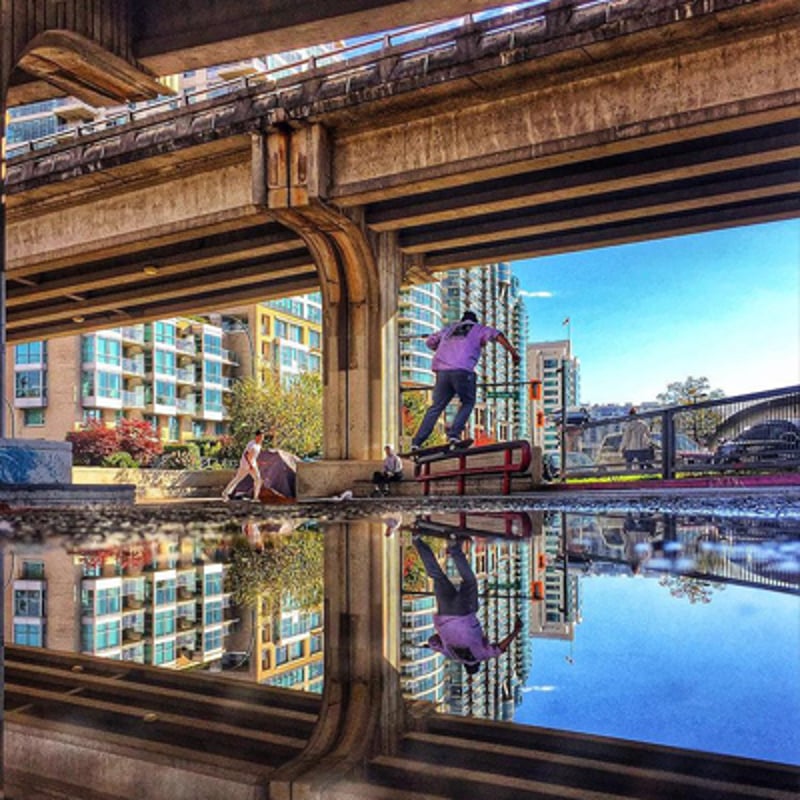 Home to Canadian street skaters
The Vancouver Skate Plaza is every street skater's dream come true, and that's because this skatepark was made for street skaters. This brilliantly built public skatepark was designed to imitate typical urban plazas in the downtown sectors of most big cities. This first of a kind skatepark has all the elements that you look for when picking a great street spot. Except that when you are here, you won't have to worry about getting kicked off of your favorite stair set or the ledge by security guards, or worry about unsuspecting bystanders. In fact, there is a skate host available during the summer to help with minor maintenance, skatepark etiquette, and first aid.
Vancouver Skate Plaza has been listed as one of the world's best 25 skateparks
You can find this urban paradise by crossing the intersection of Quebec St. and Union St., underneath the Georgia and Dunsmuir viaducts. The overpasses provide partial coverage and have lights installed underneath them, which give off plenty of illumination for a great skate session during the day or night. Canadian street skaters have been calling this place home since it opened in 2004. And although it was originally built as a temporary youth facility, the park has attracted professional skateboarders for years, and it's not uncommon to see clips of it in skate videos. In 2005, its success was given the Regional Honor Award by the Canadian Society of Landscaping. But, what else can you expect when the Vancouver Skate Coalition, the Vancouver Police Service, and surrounding community members interact and work together? The skatepark received an upgrade in 2011 and had since been listed as one of the world's best 25 skateparks by Complex magazine. Everything you need is right here, in the beating heart of downtown Vancouver. Surrounded by art, theatre and mountains, you'll feel enormously energized while shredding this skatepark with your fellow skate buddies. With 2,000 m² (21,500 ft²) of purely skateable terrain, the Vancouver Skate Plaza has enough space for you and all your friends to have a great time.
Because this skatepark, unlike most, emphasizes street skating, it has everything that you could ask for: curbs, ledges, stair sets —with and without handrails— and, of course, hubbas. But it wouldn't be complete without other common street obstacles, including knee-high flat rails parallel to the ground, manual pads, walls, plenty of banks —some forming half pyramids— and even a mini ramp. Interestingly, the plaza was constructed using different surface textures. Which means that for the most part, the park was built out of smooth cement, but you will also find parts with exposed aggregate, brick, granite, and steel. As you can tell, replicating a typical urban plaza was the key factor behind the design of this great skatepark.
Everything here is skateable
So, if you love skateboarding, this is the right place for you. Everything here is skateable and ready to give you an amazing skateboarding experience. There's no reason for you to hold back while grinding these ledges or ollying the stair sets. This place has certainly earned its spot among the world's best skateparks. Now, it's all up to you, get on spoly with your buddies, grab your skateboard, and don't hold back while grinding the ledges or ollying the stair sets.