Halle de la Glisse
Halle de la Glisse
Opens at 14:00
Monday

18:30
-
21:00

Tuesday

Closed

Wednesday

13:30
-
20:30

Thursday

12:00
-
21:00

Friday

12:00
-
21:00

Saturday

13:30
-
20:30

Sunday

14:00
-
17:00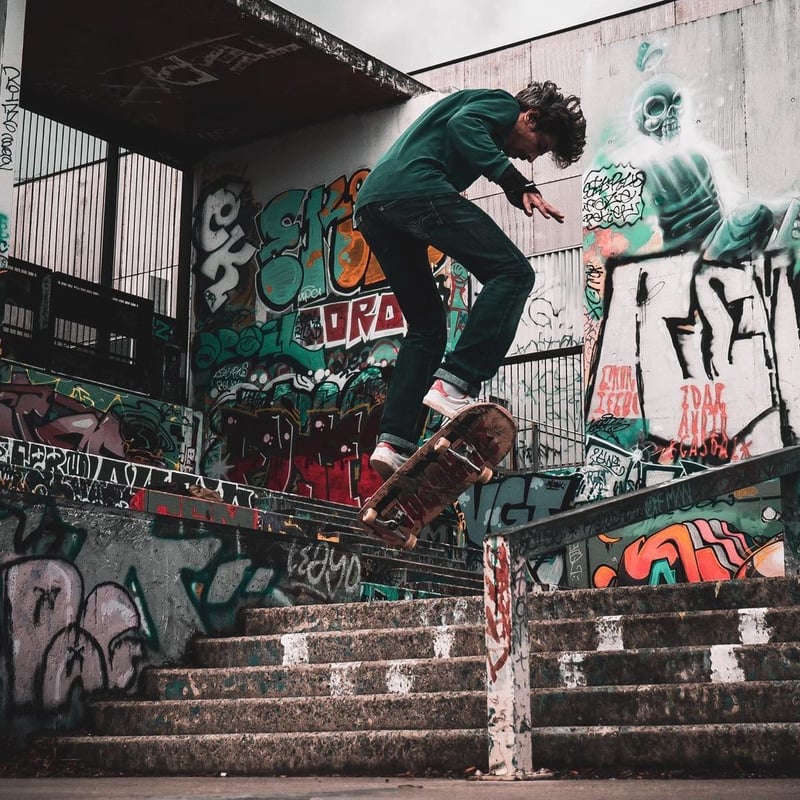 Skaters can enjoy the park rain or shine, day or night
Have you heard of Halle de la Glisse? It's this sick indoor skatepark located in Lille, France. From the moment you step into this massive indoor facility, you'll be blown away by its impressive features and well-designed layout. The park is housed within a large warehouse-like building, meaning that skaters can enjoy the park rain or shine, day or night. The indoor environment also gives the park a distinctive atmosphere that's hard to find in outdoor parks. The sound of grinding trucks and flipping decks fill the air, creating a sense of energy and excitement unique to this spot.
Halle de la Glisse has become a hub for the local skateboarding community
The skatepark has a rich history that spans over two decades. In the late 1990s, a group of skateboarders in Lille saw the potential of an abandoned warehouse and began using it as an unofficial skate spot. As the spot's popularity grew, the city of Lille officially turned the warehouse into a skatepark, and in 2005 it opened its doors to the public. Since then, Halle de la Glisse has become a hub for the local skateboarding community, hosting numerous events and providing a safe and welcoming space for skaters of all ages and abilities.
The indoor section is massive, covering an area of 21,500 ft2 (2,000 m²) with everything you need to skate like a pro. The wooden skatepark is thoughtfully laid out, allowing for a smooth transition between the street and park sections. On the street side is a gnarly funbox with ledges, a six stair-set with handrails, another three stair-set with shorter handrails, a straight extended grind rail, and an abundance of curbs, ledges, and manual pads. Additionally, there are a few smaller launch ramps. The park section is enormous, with several massive ramps, roll-ins, and even a foam pit perfect for practicing aerial tricks. Skaters can launch themselves off the ramp and land safely in the foam, allowing them to practice more advanced maneuvers without the risk of injury. At one end of the park, there's a huge volcano and a quarter pipe section with a massive wallride. At the other end of the park is another quarter pipe section with quarter pipes of varying heights and a mini half-pipe next to the foam pit.
Even if you don't skate, there's something here for you
In addition to the indoor section, Halle de la Glisse has a free outdoor concrete skatepark measuring 5,300 ft2 (500 m²). This section is covered in colorful graffiti art and features manual pads, ledges, stair sets, and handrails. Even if you don't skate, there's something here for you. The facility includes a dance hall for hip-hop enthusiasts to come and learn or improve their skills, as well as a roller-skating rink for roller derby or roller hockey.
This skatepark is beautifully designed to create a logical flow, and all of the surfaces are smooth and well-built. The facility is clean and well-maintained, which makes it a fun and safe place to skate and ride. The sense of community here is also strong, making it an excellent spot for skaters to practice and connect with other enthusiasts. If you're a skater looking for an outstanding place to skate, check out Halle de la Glisse. Admission fees are affordable and scheduled depending on whether you skateboard, in-line skate, scooter, or BMX, so be sure to check the official website of Halle de la Glisse to plan your visit. The skatepark is easily accessible by bus, train, or metro, so you won't have any trouble getting there.