Skatepark Ruben Alcántara
Skatepark Ruben Alcántara
Opens at 18:00
Monday

18:00
-
00:00

Tuesday

18:00
-
00:00

Wednesday

18:00
-
00:00

Thursday

18:00
-
00:00

Friday

18:00
-
00:00

Saturday

18:00
-
00:00

Sunday

18:00
-
00:00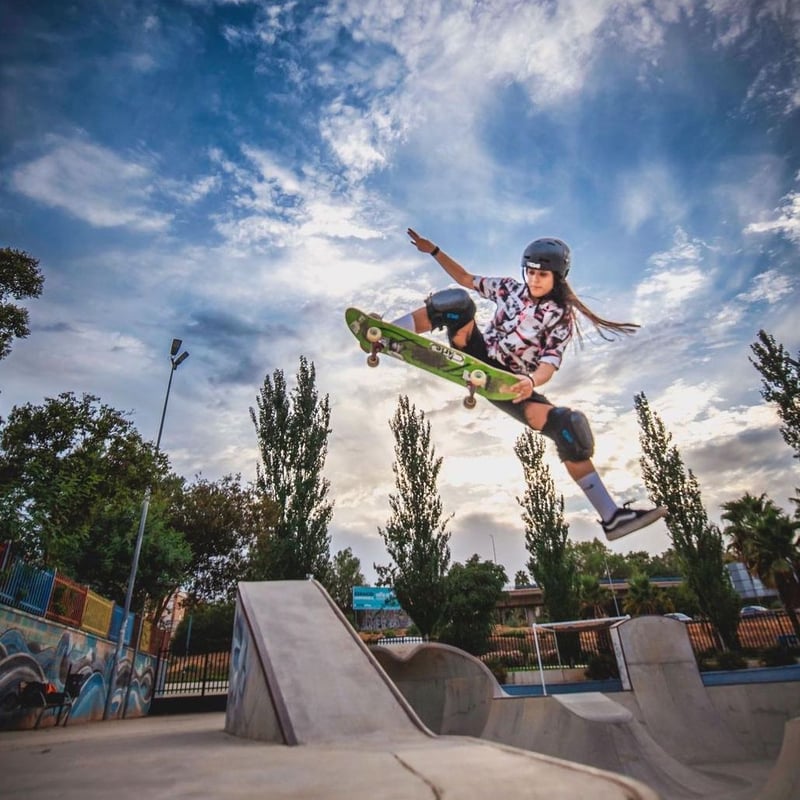 Go to
Skatepark Ruben Alcántara
One of the largest skateparks in Europe
Skatepark Ruben Alcántara is an extraordinary masterpiece in Malaga (Andalusia), Spain, that showcases the perfect blend of creativity and engineering. With a vast area of over 42,000 ft² (13,000 m²), it's one of the largest skateparks in Europe, offering a wide range of obstacles and features for BMX riders, skateboarders, in-line skaters, and scooter enthusiasts.
Skatepark Ruben Alcántara is named after its designer
Designed by the legendary Ruben Alcántara himself, the skatepark is truly one of a kind, featuring a street section, pump track, bowl, and halfpipe section, each specifically tailored to cater to the diverse needs and preferences of riders. The street section, reminiscent of an urban plaza, boasts a range of three and six stair sets, handrails, ledges, manual pads, curbs, flat rails, launch ramps with gaps, banks, quarter pipes, and movable benches. With rectangular metal coping on every edge, riders can enjoy smooth grinds and slides with ease.
The pump track is a concrete wonder, with steeply banked turns, undulating rollers, berms, and a wooden mini half pipe, providing riders with an excellent opportunity to carve, maintain speed, and generate extra momentum to surf around the track.
The bowl is a true work of art, measuring a whopping 3,300 ft² (1000 m²), with various heights, steep transitions, hips, extensions, spines, wallrides, and a cradle/over-vert. The metal coping lining the bowl provides a smooth and satisfying grind for riders with a love for grinding. The halfpipe section boasts an enormous 11 ft (3.30 meter) tall halfpipe and a mini half pipe with a rounded-off half pool-shaped side, both with metal copings, enabling riders to take their skills to the next level.
The BMX dirt track of jumps, measuring 3,300 ft² (1000 m²), is another feature that distinguishes this skatepark from others. Riders can practice jumps and can even easily transition from the dirt track directly into the bowl section.
In addition to the state-of-the-art facilities, Skatepark Ruben Alcántara has a rest area with benches, shaded areas, toilets, and a drinks stall, making it a convenient and comfortable space for riders to take breaks, socialize, and refuel
A true gem of the skating world
Since its inception in the early 2000s, Skatepark Ruben Alcántara has undergone extensive renovations, and in 2014, it was upgraded to maintain its position as a cutting-edge skatepark. It's no surprise that professional skateboarders such as Tony Hawk and the Birdhouse team have visited this park in the past.
The entrance fee to this impressive skatepark is a mere 3.5€, and with an all-day entry, riders can come and go as many times as they please. The park has a rest area with benches and shaded areas where riders can relax, take a break, and buy drinks. It even has toilets available. It's totally worth it. The park even has its own lighting, making it possible to skate at night.
Skatepark Ruben Alcántara is an amazing outdoor complex that takes advantage of the beautiful weather in Malaga. This a one-of-a-kind skatepark is a must-visit destination for any skateboarding, BMX, rollerblading, or scootering enthusiast. With its remarkable design, world-class facilities, and vibrant community, this park is a true gem of the skating world, attracting riders of all skill levels, from beginners to professionals.